Lease Space in Fort Worth's Largest Office Tower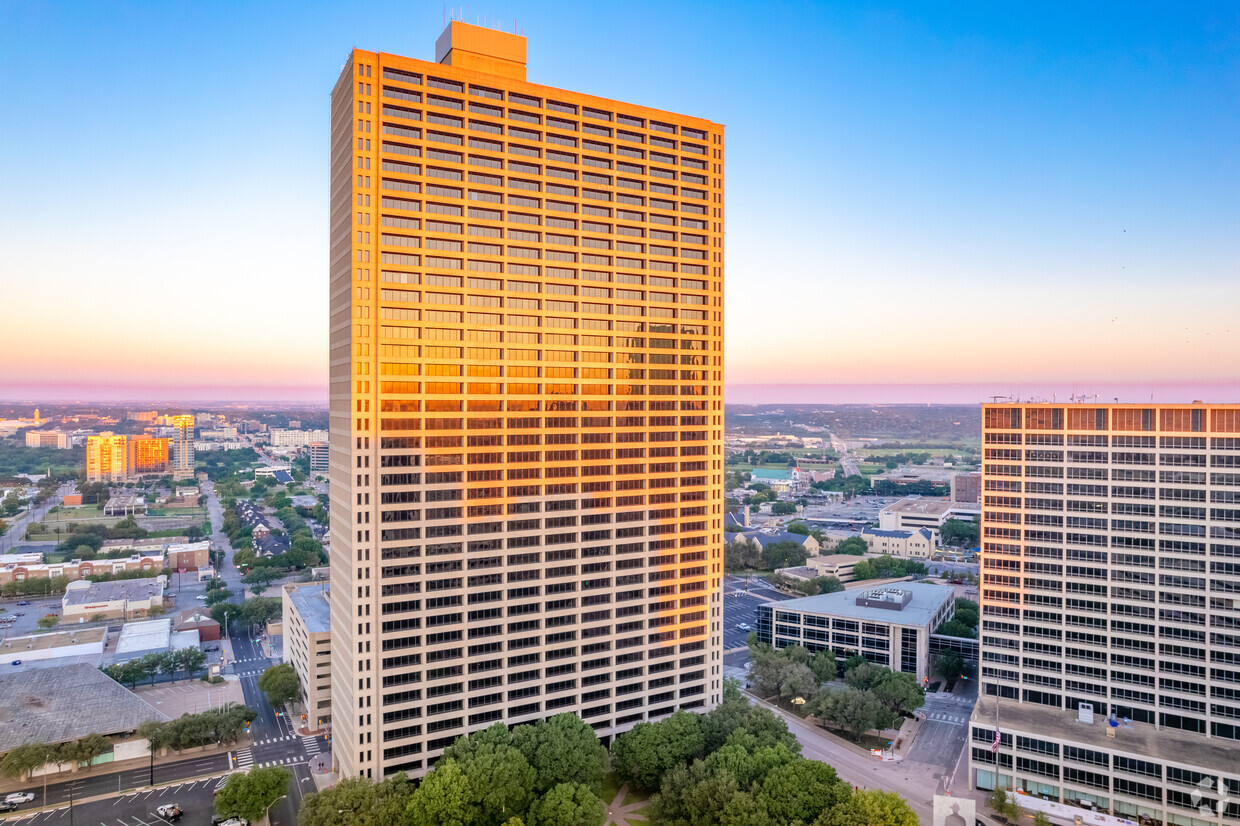 The Most Iconic Office Space
In the Fort Worth Skyline
With a presence that cannot be overlooked, it is hard to imagine the Fort Worth skyline without thinking of Burnett Plaza. After all, it is not only the tallest building tower in Fort Worth, it is also the largest with over one million square feet of commercial office and retail space. At 40 stories, Burnett Plaza is also the tallest office building between Dallas and Los Angeles.
An Office Building of Art & History
Built in 1983, the building's enduring and iconic aesthetic is epitomized by the 50-foot "Man With a Briefcase" sculpture by Jonathan Borofsky which is located on the north side of the plaza. The often-admired landmark pictured here, is a sleek aluminum slab with the outline of a giant businessman cut out of the center, representing the workforce and the thousands of people who flock to work here every day. The building is a block-sized complex that is punctuated by extensive and beautiful landscaping arranged in a dense pattern crisscrossed by mesmerizing diagonals.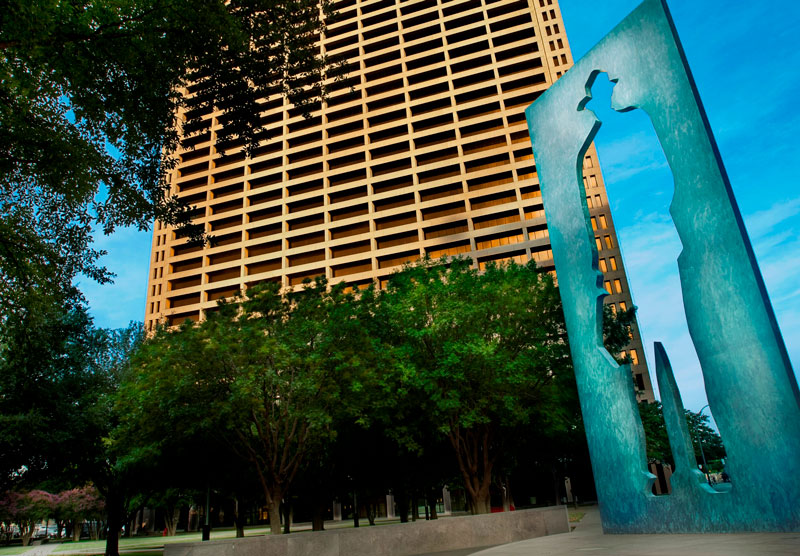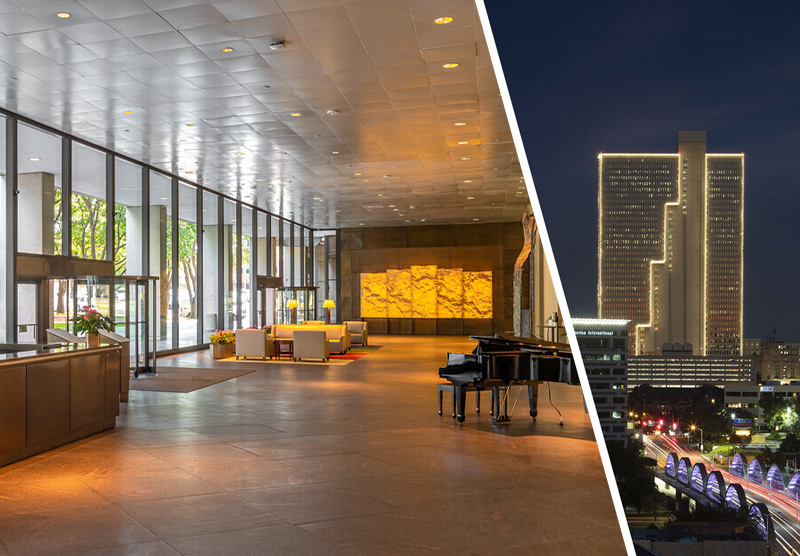 Bringing together form & function
The spacious, modern, and airy interior at Burnett Plaza welcomes thousands of workers and visitors daily. The dramatic design of the atrium treats visitors to beautiful artwork, luscious greenery, and an expansive wall of windows that lets in plenty of natural light. Even the elevator system is both a form of function and beauty. Elevator shafts exposed on the west facade each stop at a different height, which gives the appearance of a modern art sculpture during the day and transforms the office complex into a show-stopping light installation at night.
Commercial Office Space Available
Want to learn more about the commercial office space available in Burnett Plaza? Just click on the interactive image below. Or maybe you have questions about the different types of commercial leases available to sign? Let's connect.
We can give you an in-person or virtual tour, we will show you amazing on-site amenities and stunning office space options. We will provide realistic and accurate costs in the Fort Worth area, and we will answer all of your commercial lease questions.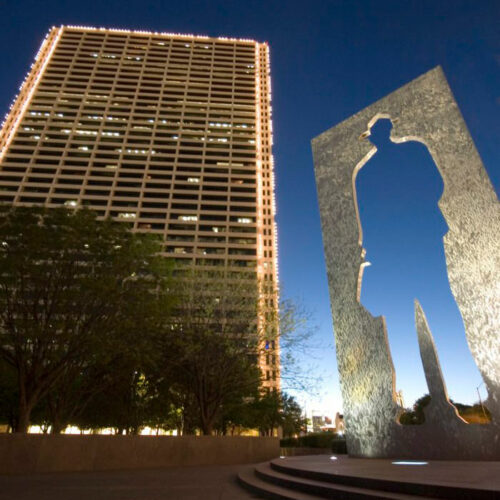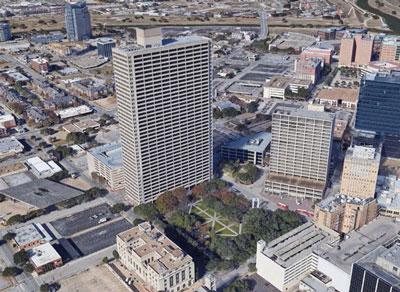 QUICK FACTS

 About Burnett Plaza
Height
40 Floors or 567 Feet Tall
Covered and Surface Parking Spaces
Energy Star Rating
Energy Star Certified 2022
Onsite Amenities
Management Office, Security, and Deli
Onsite Features
Beautiful Art and Green Spaces & Landscaping
Public Transportation
Walking distace to DART / TRE Stations, On-site Shuttle Bus
Airport Access
35-45 Minute Drive to Dallas Fort/Worth and Love Field, Respectively

Awarded LEED Certification
at the Silver Level by the
U.S. Green Building Council in 2012
Achieved the
BOMA 360 Designation

Awarded an Energy Star Label
in 2014 and Continues
to Hold This Designation
In the modern digital era, where remote work and virtual meetings have become commonplace, the relevance of physical office spaces may be questioned. However, despite the increasing digital connectivity, office spaces still hold significant importance...
read more
With New, Fort Worth Tenants That Will Make Everyone's Lives Sweeter! The commercial real estate world is buzzing with the hot topic of corporate ESG (Environmental, Social, Governance). And, Burnett Plaza, the largest commercial office building in Fort...
read more
Burnett Plaza
801 Cherry Street
Fort Worth, TX 76102
Burnett Plaza
801 Cherry Street
Fort Worth, TX 76102
Burnett Plaza
801 Cherry Street
Fort Worth, TX 76102
Interested in Leasing Office Space at Burnett Plaza?
Contact Our Burnett Plaza
Market Director

, Sam Davis, to Get Started!