With New, Fort Worth Tenants That Will Make Everyone's Lives Sweeter!
The commercial real estate world is buzzing with the hot topic of corporate ESG (Environmental, Social, Governance). And, Burnett Plaza, the largest commercial office building in Fort Worth, Texas, is leading the way with the addition of our newest tenants who managed to negotiate a sweet deal on their lease. Some might call them "pollenticians" but we just think they're "bee-autiful."
Located in the heart of downtown, Burnett Plaza is a state-of-the-art office building that combines modern amenities with eco-friendly initiatives. As a responsible corporate building, Burnett Plaza is committed to reducing its carbon footprint and promoting sustainability. One of the unique ways we are doing this is by bringing the bees back to the urban landscape.
Yes, you heard that right! Burnett Plaza has installed honey beehives in the newly renovated landscape along Cherry Street and has taken the first steps to pollinate the surrounding parks and downtown area. The beehives are not just a cute addition; these hard-working tenants play a crucial role in maintaining a healthy ecosystem and pollinate the plants and flowers that make our urban areas lush and green. By supporting the bees, we are also supporting the health of our planet.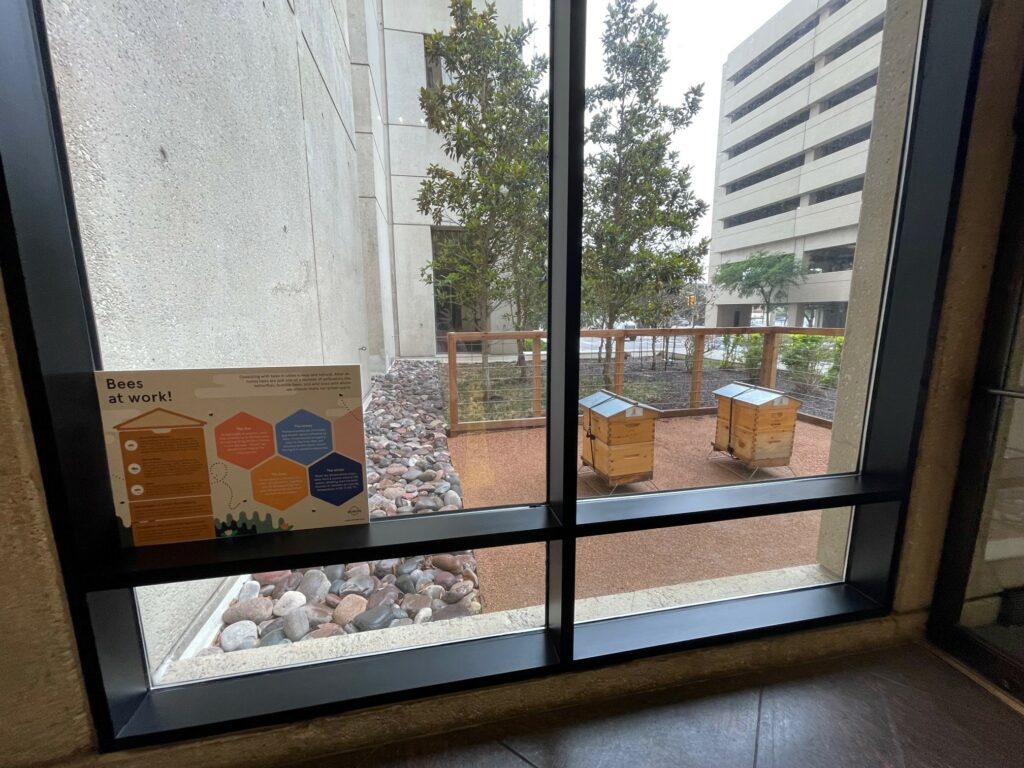 The beehives also produce delicious honey that we are thrilled to share with our tenants. Honey is a natural sweetener that is not only good for you but also helps reduce the carbon footprint associated with importing sugar from foreign countries. By using locally sourced honey, Burnett Plaza is making a positive impact on both the environment and local community right here in Fort Worth.
Burnett Plaza Leads the Way in Sustainability
In addition to the beehives, Burnett Plaza has taken several other steps to promote sustainability. Our building is equipped with energy-efficient lighting, HVAC systems, and appliances. We also have a recycling program in place and encourage our tenants to reduce, reuse, and recycle.
Tenants of Burnett Plaza can feel good about the decision to lease space in a building that is making a positive impact on the environment. You can also enjoy the many benefits of being in a modern and well-equipped office building. From stunning views of the city, proximity to restaurants and retail, to high-speed secure internet, Burnett Plaza has everything you need to "bee" productive and successful.
Burnett Plaza is the sweetest choice for your office needs. With its commitment to a market-leading ESG program and its eco-friendly initiatives, you can feel good about doing business in a class A office environment that is making a positive impact on our planet. So why wait? Book a tour today and experience the sweetest choice for your business!
Note: The bee population is currently declining, and it's crucial to support and protect them. Bringing beehives into the downtown Fort Worth area will raise awareness for the cause and help preserve our fragile ecosystem.